Ozone plays key role in shipping pineapples from Costa Rica to China - featured at FreshPlaza
China offers significant opportunities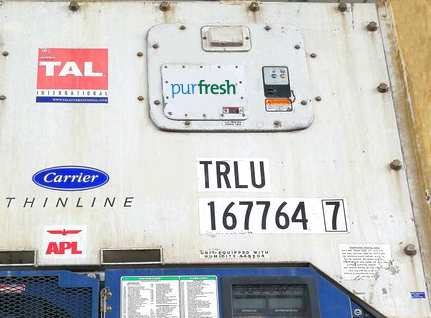 "We've been involved in expanding Costa Rica's export pineapple program since 2008. At that time, the new markets were Turkey and Russia," DeBlasio shared. In March of this year, the country received authorization to ship pineapples to China after discussing trade agreements and seeking phytosanitary approval for seven years. With China a new market opens up, offering huge opportunities for Costa Rica as the US and Europe currently buy 97 percent of the country's production.  
So far, Purfresh has shipped two containers of pineapples from Costa Rica to China with a transit time of 35 days. What is unique about Purfresh' process is the generation and application of ozone, into the airflow, during the entire ocean shipment, to eliminate mold growth, bacteria growth, and decay. "We believe that the Purfresh ozone atmosphere system was important to keep the pineapples fresh and avoid decay and softening of our pineapples on the long ocean voyage from Costa Rica to China," says Mr. Zhang Yun with Chinese importing company Shenzhen Hongxinpeng Import & Export Co., Ltd. For conventional pineapples, DeBlasio recommends using ozone with any transit of more than 20 days, whereas for organic pineapples it is recommended for ocean transit times of more than 10 days. 
Collaborative effort
"The pineapples have arrived in China in very good shape," said DeBlasio. Upon arrival, they had a good shelf-life left. "The pineapples maintained positive visual quality and a nice sweet taste, one week after arrival into China, which was 45 days after the harvest of these pineapples," confirmed Mr. Zhang Yun. "I realize the excellent quality upon arrival starts with Costa Rica's excellent growing and storage program. In addition, it is the result of a collaborative effort between ourselves and the importer. We've worked very closely with the importer in China and during transit, we provided them with updates on the movement of the cargo, ozone levels, and the temperature of the fruit," DeBlasio added.
Delicacy fruit
Traditionally, the Philippines supplies China with pineapples. However, "the taste is very different," said Yun. "The Costa Rican pineapples have sweeter and more delicate texture compared to the pineapples from the Philippines."  Both Yun and DeBlasio agreed that the Costa Rican pineapples have a solid opportunity to be seen as a delicacy fruit product and can be marketed as such in the Chinese market.
For more information:
Christian DeBlasio
Purfresh
Tel: (+1) 813-546-0274
Read article at FreshPlaza here.
Publication date: 12/5/2017
Author: Marieke Hemmes
Copyright: www.freshplaza.com