Will ozone become a viable alternative for CIPC? - featured at FreshPlaza
Sprout inhibitor CIPC has been officially banned in the Netherlands and Belgium with France and the rest of the European Union expected to follow soon. The impact on the potato industry is anticipated to be significant as without applying CIPC during storage, the shelf-life of potatoes will be drastically reduced. Potatoes are harvested in the fall, but if stored under the right conditions, their shelf-life well lasts into the summer of the following year. "Without CIPC, potatoes start sprouting much sooner, which basically means the end of their shelf-life," says Joyce Boezaard-Klapwijk with Purfresh.
Test results
Since there is no alternative available, the Dutch Potato Organization NAO has joined forces with Purfresh to identify the possibilities of using ozone as a sprout inhibitor. "Two containers of potatoes have been tested by Wageningen University and SGS for 28 days with an ozone level of 250 ppb," said Boezaard. The tested varieties were Challenger, Triplo and Melody and they spent 28 days inside reefer containers with a shelf-life test performed after 7 and 14 days. The good news is that after four weeks the number of viruses and bacteria in the potatoes had been reduced by 122 percent without smothering the potatoes. However, the levels of ozone had not been able to completely prevent sprouting. "Ozone slowed down the speed of sprouting but hadn't been able to completely prevent it. Although these potatoes were at the end of their storage life and therefore prone to sprouting, the test didn't offer the results initially hoped for."
These are the results from SGS and Wageningen University after the 28-day test. The difference relates to sprouting in treated versus untreated potatoes. On average, sprouting was 13.54% less in treated potatoes.
| | |
| --- | --- |
| Sprouting | Difference treated vs. untreated |
| Challenger: <1 mm | 16.15% |
| Challenger: >5 mm | 0.00% |
| Triplo: <1 mm | 8.40% |
| Triplo: >5 mm | -12.50% |
| Melody: <1 mm | 19.21% |
| Melody: >5 mm | 50.00% |
| Total Average | 13.54% |
Longer duration of test
Although there were hopes for better results, testing doesn't stop here. PurFresh will continue to research if ozone could be a viable alternative. "For us, the next step is to expand the duration of the tests and increase ozone levels," said Boezaard. The company is working with the Dutch and French national potato organizations and expects to start performing tests with a duration of six months as of December. Like with the first test, the potatoes will be put in ocean containers because Purfresh' ozone panels have been manufactured to be installed in reefer containers.
"Through a panel, we are able to inject ozone into the reefer container," Boezaard mentioned. This is a controlled and enclosed environment that can't be created in a potato storage shed unfortunately. Even more challenging is the fact that CIPC residues can be found in storage sheds up to 15 years after using the chemical. Despite the product no longer being used, there still is a likelihood of potatoes being contaminated with CIPC if they are stored in the same storage sheds.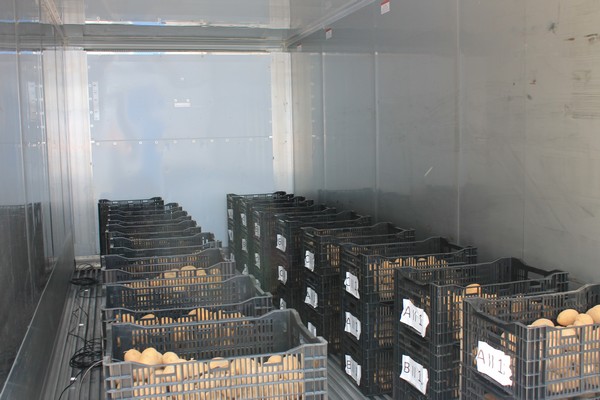 Ozone is not the only substance that is being researched as an alternative for CIPC. A few other companies are working on developing alternatives. One is a spray that needs to be applied in the field a few times and another is a gas that can be applied in an airtight environment, which could cause the potatoes to mold. Purfresh remains optimistic and continues to perform tests in hopes to be able to offer a viable alternative for potato growers.
View article at FreshPlaza.
If you want to know more about Ozone Atmosphere for Shipping Containers visit purfresh.com.