Controlled Atmosphere for Reefer Container
in the Supply Chain Management of Fresh Food
Fresh food is essential for the health and nutrition of people globally. The supply chain for transporting and managing the freshness of food spans the world but can be very wasteful. It is estimated that 30% to 50% (or 1.2-2 billion tons) of all food produced on the planet is lost before reaching a human stomach.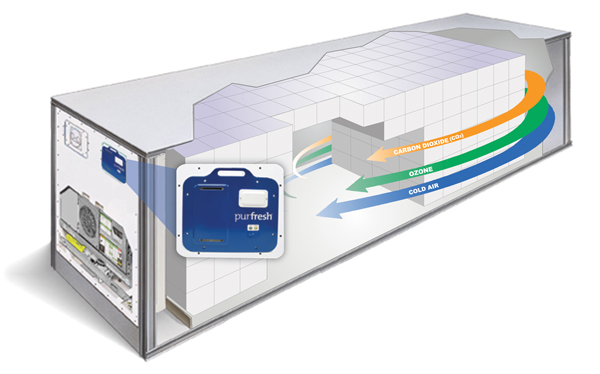 In a sustainable world this problem must be solved. Purfresh's Controlled Atmosphere -- is an innovative solution that creates, controls and monitors the optimal environment for transporting the freshest and safest food to the consumer. The unique comprehensive solution combines and controls the full range of environmental elements, such as oxygen, carbon dioxide and ozone, atmospheres and temperature, as well as real-time monitoring of these factors and RH. Different fruits and vegetables have unique needs and shelf life challenges, whether sensitivity to ethylene, susceptibility to mold, chilling injury, ripening control, and others. Purfresh's Controlled Atmosphere provides the flexibility to meet these various needs, resulting in minimal shrink and optimized quality, nutritional value and shelf life.
The result of CA is the freshest, healthiest, safest and most economical supply chain for the delivery of fresh food. Purfresh's CA will directly impact the supply of food around the world and support the reduction of waste.