We help increase the availability of organic produce globally
"International shipping of organic produce is very difficult," says Christian DeBlasio with Purfresh. Organic produce can experience reduced shelf-life due to the absence of chemical protection. As a result, most organic produce is shipped by air, which can be four to five times the cost of ocean freight. "Some companies even decide not to sell organic produce overseas for that reason," said DeBlasio.
Ozone extends shelf-life of organic produce
With conventional produce, chlorine is often used for washing and Sulfur dioxide (SO2) can be used during storage and transport, to limit mold and bacteria, growth and decay. These compounds are not organic and therefore not allowed to be used with organic produce. Within the organic industry, ozone can be used as a substitute for chlorine and SO2; it is organic and has a lot of similar properties. "The challenge with ozone is that it destroys itself quickly," said DeBlasio. "The only way to keep ozone active during transportation is through a steady supply of electricity." Purfresh has developed a device (Active and Total Atmosphere) that can be plugged into the power system of a reefer container. Electricity enables the generation of ozone on demand during shipment. "Being able to generate ozone during shipment extends the shelf-life of organic produce," commented DeBlasio.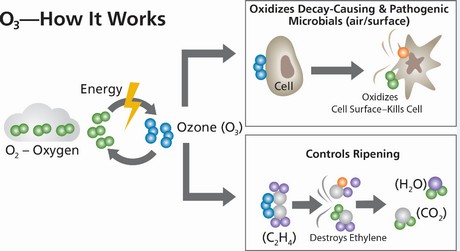 Organic table grapes
Purfresh has a customer in South Africa who ships 100 40ft. containers of organic table grapes to Europe each season. The company uses ozone generators throughout the cold chain: in its cold storage warehouses in South Africa as well as during the ocean container transport stage. "They use our ozone device in the containers on the vessel," mentioned DeBlasio. "Without the application of ozone, we would experience significant product losses of our organic grapes," said Eddie Redelinghuys with Anytime Investment in South Africa.
Organic shipments grow steadily
The majority of Purfresh' shipments are still made up of conventional produce. However, organic volumes have increased steadily over the past nine years. "From one percent of our business, organic now makes up more than 25 percent of the volume we ship. Our technology supports the marketability and availability of organic produce worldwide, including table grapes, blueberries, mangos, citrus, ginger, and avocados," said DeBlasio.
Different regions in the world have independent organic certification bodies. The USDA has certified ozone as organic for food contact in the United States. Because many countries operate with organic equivalency agreement programs, ozone is certified as organic in many other countries as well.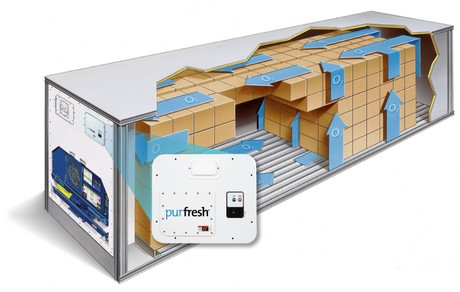 For more information:
Christian DeBlasio
Purfresh
Tel: (+1) 813-546-0274
Publication date: 5/31/2017
Author: Marieke Hemmes
Copyright: www.freshplaza.com